" Wander through the winding paths and flowering groves of our English-style garden, created 20 years ago, and see it gradually unfold "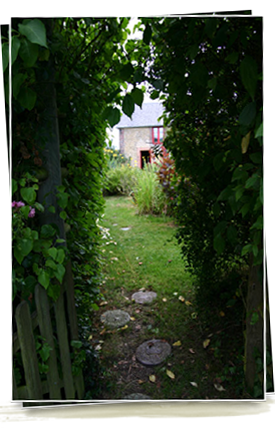 Facing south towards the hills of Le Perche, it offers a splendid and surprisingly clear view to the borders of Lower Normandy.
For the majority a flower garden, the La Folêterie Garden is also a nutritive garden. A large natural vegetable garden with a variety of vegetables, occasionally invites itself into the ornamental garden. An orchard with local fruit varieties, and also several generous apricot trees, is dominated by a pear tree over one hundred years old. There is also a hen house where you can admire several different breeds of hens and ducks. All this blends naturally with the flower beds of perennials, annuals, shrubs and roses. Depending on the inspiration of the garden's designer, these can be mixed-borders in sweeping rounded shapes or rectilinear. The garden's appearance is of great importance, and the designer favours a natural look. It is an art in itself! The pools and the small stream emphasize the feeling of calm, which confirm that "You find happiness in the garden"!


Occasionally, exhibitions are hosted at the garden. Through the works, inspired mainly by plants and animals, you can enjoy a different perspective of the garden, highlighting the many plants. A very successful form of osmosis!